By: Emily Kozlowski
Brand Marketer, BrewLogix

(Visit BrewLogix during KombuchaKon at Booth #311/410)
Kombucha brewers are very familiar with the data points inside their breweries that keep batches consistent and help sales grow. However, in the 24/7 world of brewing, you may not be aware of the many data points outside the brewery that could provide a boost to your spirit when the HVAC fails and the bottlers call in sick. For those moments, check out these encouraging trends, lifestyles, and consumer preferences that will inspire you to power through!
Mindful Drinking
Healthy living and mindful drinking are common resolutions in the new year. From Dry January to clean diets and fitness memberships, people want to start the year how they want to live: healthy. What if these habits are more than just a new year resolution? Evidence shows for the Gen Z and Millennial generations, this increasing effort toward healthy living adds momentum to the upward trajectory for kombucha.
"Consumers want to be really focused on what they're putting in their bodies," shares Nielson Senior Vice President Kim Cox in an interview with Insider. "In general, there's been such a huge trend over the last several years towards lower sugar, lower carb, lower calorie in the beverages space."
Mirroring the mindful drinking trends found in Nielson survey data, the latest Annual Consumer Survey from the Brewers Association reveals motivating facts for kombucha brewers and distributors. According to figure 1, interest in low-calorie, organic drinks with health-centric and local ingredients are of top interest amongst 21-34 year-olds. Although this data is based on beer drinking patterns, it's very relevant to kombucha. Whether you're enjoying non-alcoholic or hard kombucha, these interests reveal the perfect pairing between kombucha and the newest members of the legal drinking age market segment.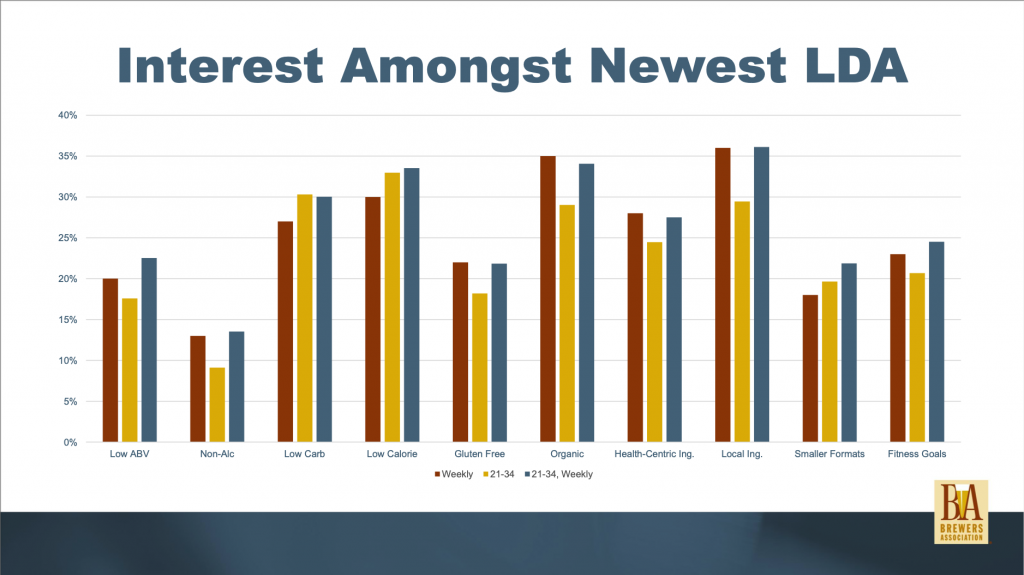 Flavor Trends
Not only are consumers seeking healthier beverage options – data tells us they're also on the hunt for diverse flavors. Many kombucha brands fuse raw kombucha with fruits, herbs, and spices to create bold and innovative experiences. Kombucha's blossoming flavor profiles are a perfect match to this year's 2022 emerging flavor trends.
"Fruit, botanical, and fresh flavors will drive new product innovation in 2022 as consumers continue to seek out immune-boosting food and beverages," predicts Beck Flavors. These emerging flavors have a healthy connotation and align with the growth of consumer preference toward functional beverages with positive health benefits.
Beck Flavors is not the only one to predict these rising flavor trends. In their 2021 Mid-Year Craft Survey, the Brewers Association identified crisp, juicy/hazy, and fruity as the top interest flavor categories. Consumers of all ages are seeking new flavor experiences. Gen Z and Millennials are more interested in fruity and juicy/hazy flavors, while consumers ages 21-65+ are especially interested in crisp flavors.
Consumers are craving drinks with tastes that are typically found in kombucha: fresh, fruity, and crisp (clean, light, and refreshing). Many flavor-forward kombucha brands are innovating unique flavor fusions to constantly provide new experiences to their customers.
Local Craft
In the on-premise environment where BrewLogix® examines the performance data of products on draft, one particular trend boosts the outlook for kombucha: the demand for local craft. In fact, today's top-performing draft programs share a key leading indicator of success: the volume of locally or regionally crafted brews. The preference for local is popular enough among consumers, that even craft beer taprooms welcome "guest taps" of other local breweries (including kombucheries) to expand their local offerings. This is a significant opportunity for kombucha brewers to reach customers who may not otherwise have exposure to locally-crafted kombucha.
Digging deeper into over 1 billion ounces of draft data, BrewLogix® found that "variety" is a critical factor driving the appreciation for local craft. Today's consumers want to experience their beverages as well as try new flavor profiles. Local craft kombucha on tap helps beverage managers achieve their goals while serving the demand for variety consumers crave.
Affirming Growth
According to Fortune Business Insights (Figure 2), "the global kombucha market size stood at USD 1.84 billion in 2019 and is projected to reach USD 10.45 billion by 2027, exhibiting a CAGR of 23.2% during the forecast period."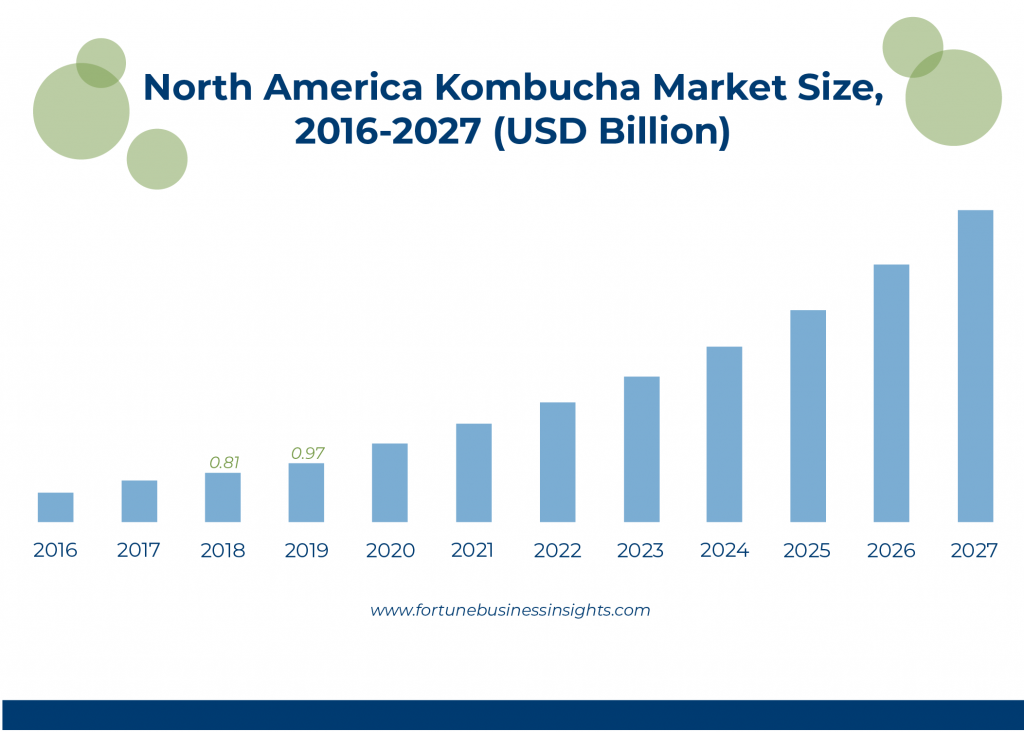 Today, online behavioral data can also be a predictive indicator of growth. Google Trends data, for example, shows online searches for "kombucha" have been gradually increasing in popularity over the years. SEMRush, an online marketing insights tool, reports that global monthly search volume for "kombucha" is currently 11 times greater than global search volume for "immune boosters" and 1.5 times greater than "probiotics". These search behaviors may indicate that a wider array of consumers are growing in their understanding of kombucha and its health-boosting properties. As Gen Z and Millennials fuel the movement for healthier, sober curious lifestyles, the market will only continue to rise.
You know the saying – "when one door closes, another opens." Due to the pandemic, many businesses have had no choice but to close their doors. Fortunately for the kombucha industry, the pandemic has opened the minds of consumers to fermented foods and beverages that are both functional as well as delicious. This reaffirms optimistic projections for the growth of the industry. Between the pandemic and the wellness movement powered by the younger generations, the overall demand for healthy alternatives has contributed greatly to the growth of the kombucha market.
A Bright Future for Kombucha
Overall, these emerging trends, lifestyles, and consumer preferences should encourage those who brew, distribute, or serve kombucha. As you sip on your next glass of kombucha, take a moment to appreciate the delicious beverage produced inside your brewery. Then reflect on the rich data outside your brewery that makes an exciting case for the future of your brand.
---
Author Emily Kozlowski is a Brand Marketer at BrewLogix®, a technology company transforming on premise data for the benefit of the independent craft community. Connect with her via email, LinkedIn, or in person at KombuchaKon 2022 in Long Beach, CA.