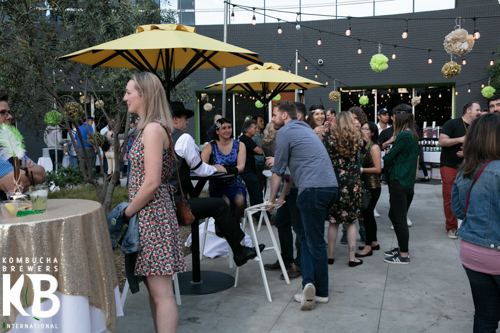 Welcome Reception/Pre-Registration
We're especially looking forward to this year's welcome reception, since it will be the first time many of us will see each other in-person in over two years! Catch up with old friends and meet new ones. Snack on small bites and sip on kombucha, kombucha beer, and kombucha kocktails. Don't forget to pre-register while you're there!
T3 & T4 Networking Luncheon
This exclusive event is a must-attend for our T3 & T4 members. Join us for a special presentation by LJ Suzuki, founder of CFO Share. He's a serial entrepreneur and expert in pricing strategy, business development, and cost of growth analysis. LJ knows from experience what it takes to grow your business and is excited to share his knowledge with our members. After the presentation, take some time to chat and share inspiration and challenges with your fellow large-scale brewers.
Diamond Sponsor Reception
Thursday evening, take the opportunity to unwind from a day of learning and compare notes with your peers at our Diamond Sponsor Reception. This free reception is a great opportunity to make and solidify connections before letting loose at 80s Prom Night.
80s Prom Dance Party
TBT a golden era of sequins and hairspray during KKon's outdoor dance party. Read more here.
Brewery Tour
Hop on the bus and let us take you on a tour of the most fabulous local kombucha breweries San Diego has to offer! We will chat with the owners and sample a few of their favorite brews. Take in the sights and sounds of your fellow KBI members' kombucha brewery and get inspired by their setup, products, and vibe.